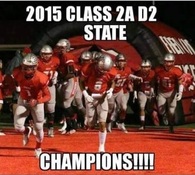 Area Champs! Go BT! Go get Falls City!
Next playoff game will be held in Lago Vista at 7:00. We will be playing Falls City!! Go Tigers! Athletic Creed: We will represent our parents, coaches and school with class, pride and discipline. We will strive to be a positive example to our teammates and gain the respect and admiration of our opponents in competition. Bremond . . .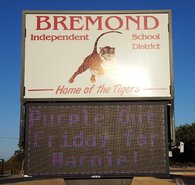 Rett Syndrome Awareness Month
Friday, October 16 was Bremond ISD's " Purple Out " for Rett Syndrome Awareness Month and also for our Marnie Andreski, who is a middle school student here at BMS. All of Bremond ISD and many community members supported this by wearing purple shirts, hats, headbands, etc. Featured below is a video created . . .
Current Highlights