Bremond Football Playoff History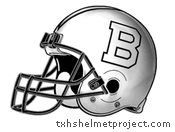 Click here to view Bremond Tiger Football History since 1951!
...let's go get 'em red!!
Jerry Woychesin

jerry.woychesin@energyfutureholdings.com

Franklin, TX

Security Guard

Sep 15, 2012

I graduated in 1969 and played for the Tigers football and baseball teams..................GO BIG RED!!!!!!!!!!!!!

Mark Pelzel

Feb 20, 2014

I've been looking at old microfilm of the Marlin Democrat & found playoff locations for football in the '50's & '60's. 1951 A&M Consolidated @ Hearne 1955 Hempstead @ Hearne 1957 Lott @ Bremond Hempstead @ Navasota 1962 Barber's Hill @ Huntsville 1963 Barber's Hill @ Huntsville I hope everyone finds this interesting. On another note, when did Bremond change their school color from Maroon to Red? I also understand that Bremond wore Orange, Purple & Grey around 1931. Is that true?