Working...

---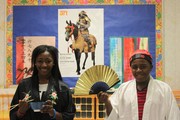 Chinese New Year
---
Bremond Middle School Art
Brmeond 7th and 8th Grade Students will travel the world using Art History and the creation of art from around the world as their mode of transporation for the 2015-16 School Year.
Ms. Miller "AKA Art Lady" has taught art at Bremond ISD for sixteen years. She is a member and Past-President of the Brazos Valley Art Education Association (BVAEA), Middle School Division Chair of the Texas Art Education Association (TAEA), TAEA Region VI Junior VASE Director, member of the National Art Education Association (NAEA), Sponsor of the Bremond Chapter of the National Art Honor Society and was named the TAEA Junior High/Middle School Art Educator for 2012.
If you have any questions please contact Ms. Lisa L. Miller via e-mail at lmiller@bremondisd.net or by phone at (254) 746-7145