Welcome to Miss Hudak's Web Page!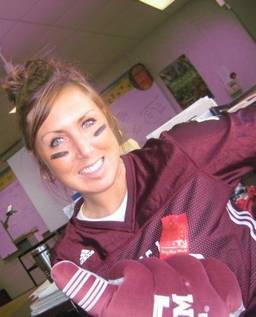 My name is Leah Hudak and I am currently teaching Biology at Bremond High School. I'm from Philadelphia Pennsylvania and I received my undergraduate degree in Biochemistry at Penn State University and am currently working on a master's at Texas Tech in Math-Science Integration.  In my spare time, I love to spend time with family and friends and to be outdoors hunting, fishing, etc. I played sports and coached in college, so every chance I get to swim, throw around a football or hit some softballs, I take in a heartbeat. 
Biology

      Biology is the study of < LIFE >! We study biology to gain an understanding of the natural world. Through out this class, we will be conducting field and laboratory investigations in order to further learn about various biological phenomena. The students will explore life on the cellular/molecular level as well as complex systems such as plants and animals within many of Earth's diverse environments.

 

 

 

 
MS2 Assignments Dr. Ortiz :
Click on the link and it will pull up that assignment/video
1. Beginning of year learning survey with teacher and student responses
2. End of year learning survey with teacher and student responses
3. Chapter 2 (Group) Presentation Outline
4. First Integrated Lesson - Cell/Water Properties 
***This was a lesson I had integrated previously so I kept 
the original footage, but now am concentrating on the assessments 
I created for the lesson. Also, I could not use this classes' 
footage as a student/parent would not sign the consent form.  
Lesson Plan and Assessments (Worksheets)
Student Work/Assessment (Worksheets)
5. Second Integrated Lesson - Playground Physics
***Playground Physics Video, Lab, Lesson Plan, and Student Work 
was send to you by my cohort Melissa Pruitt as we completed 
the lesson together. My individual reflection is attached below. 
6. Diagnostic Assignment
 Diagnostic Interview Questions and Tasks
 Student Work for Diagnostic Tasks
7. Discussions (See Blackboard)
                                               Extra Integrated Lessons
Integrated Lesson 1 (2 parts)
http://www.youtube.com/watch?v=Uj1McRuIw-M
http://www.youtube.com/watch?v=38_0H51D1ds
Integrated Lesson 2 (1 part)
http://www.youtube.com/watch?v=4O3ZufwvseI