BHS Artists Earned 15 Medals at VASE!
---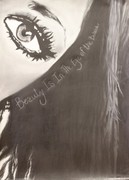 Beauty by Katherine Hull
---
"It's Art, Sweetheart"
The Artists from Bremond High School earned 15 medals at the Visual Arts Scholastic Event or VASE today. They were happy with the results and I was really proud of them and the hard work and long hours they spent working on their entries.

Congratulations and remember our Valentine VASE motto, "It's Art, Sweetheart"