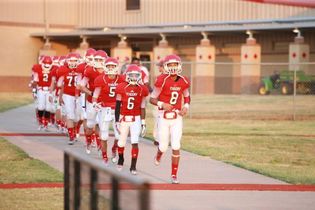 Associated Press All State Team Draven Dension-- Defensive Tackle--2nd Team All State Colby Wilganowski --Defensive Tackle Honorable Mention and Offensive Line 2nd Team Harrison Hull --Honorable Mention  LB Evan Sargent --2nd Team Defensive Back   District 12-A All . . .
On June 14, 2014, two members of the Fighting Tiger 2013 Football Team will play in the Victory Bowl in Waco at Waco ISD Stadium. Draven Denison and Colby Wilganowski will be representing our school and our town at this game.   . . . read more
No Comments
Congrats to Harrison Hull-Defensive Player of the Year!
Waco Trib: Super Centex Football Team read more
No Comments
Bremond VS Lovelady 2013 The Sequal
  read more
No Comments
Regional Champs/Quarter Final Qualifiers
Congratulations to our Bremond Tigers on a great season! Our tigers finished the season 12-1 and as Regional Champs/Quarter Final Qualifiers! We are proud of you Big Red! Way to go Tigers! . . . read more